Salzburg Rains
Salzburg offers lots beautiful sights to see and things to do. Here's what my partner and I did while there.
Back on December 30, my partner and I were able to make a day trip to Salzburg, where we spent some time and walked around the city and trails. We took a train the 312 kilometers from Vienna for a bit over two hours, and arrived in the city, ready to walk around and see what we could. It was raining, but we weren't deterred - as the day wore on thankfully it decided to ease off, and we were able to be dry for the majority of our time there. The general path we took is below, though it admittedly isn't the most accurate thing by any means - the tracking was a bit jittery and didn't sample as much as might have been ideal, and GPS decided it should hop across the river a few times for no reason.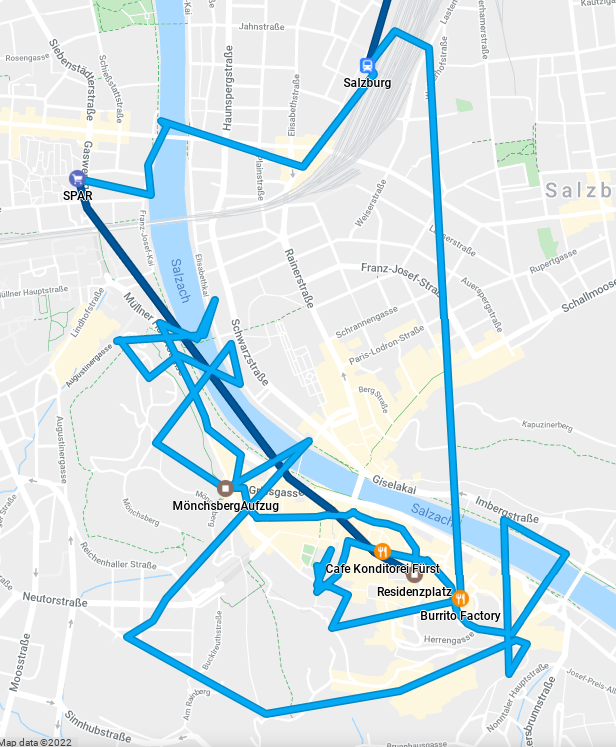 Just before this trip I had made sure that my partner had seen The Sound of Music - something that seems fairly well watched among Americans, but many Austrians have not heard of it, much to my amusement. Aside from the general Salzburg tourism of seeing Mozart's birthplace, we also made sure to stop by the Christmas market in Residenzplatz. We then went on a walk on trails that went across the nearby hills - here's a better plotted map of where we went.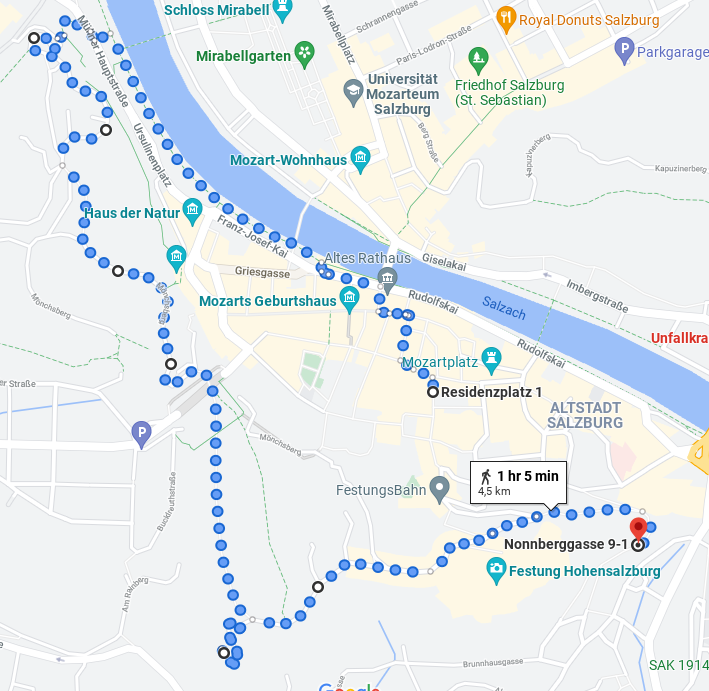 The map does a terrible job of showing it, but the hills that we walked on allowed for some amazing views of the city and I was able to take some photos that I thought turned out pretty well. Along with the feature image of this article, here are a few others that I felt were worthy of being shared. There are several other photos that I am proud of, I'll attach them at the end of the article.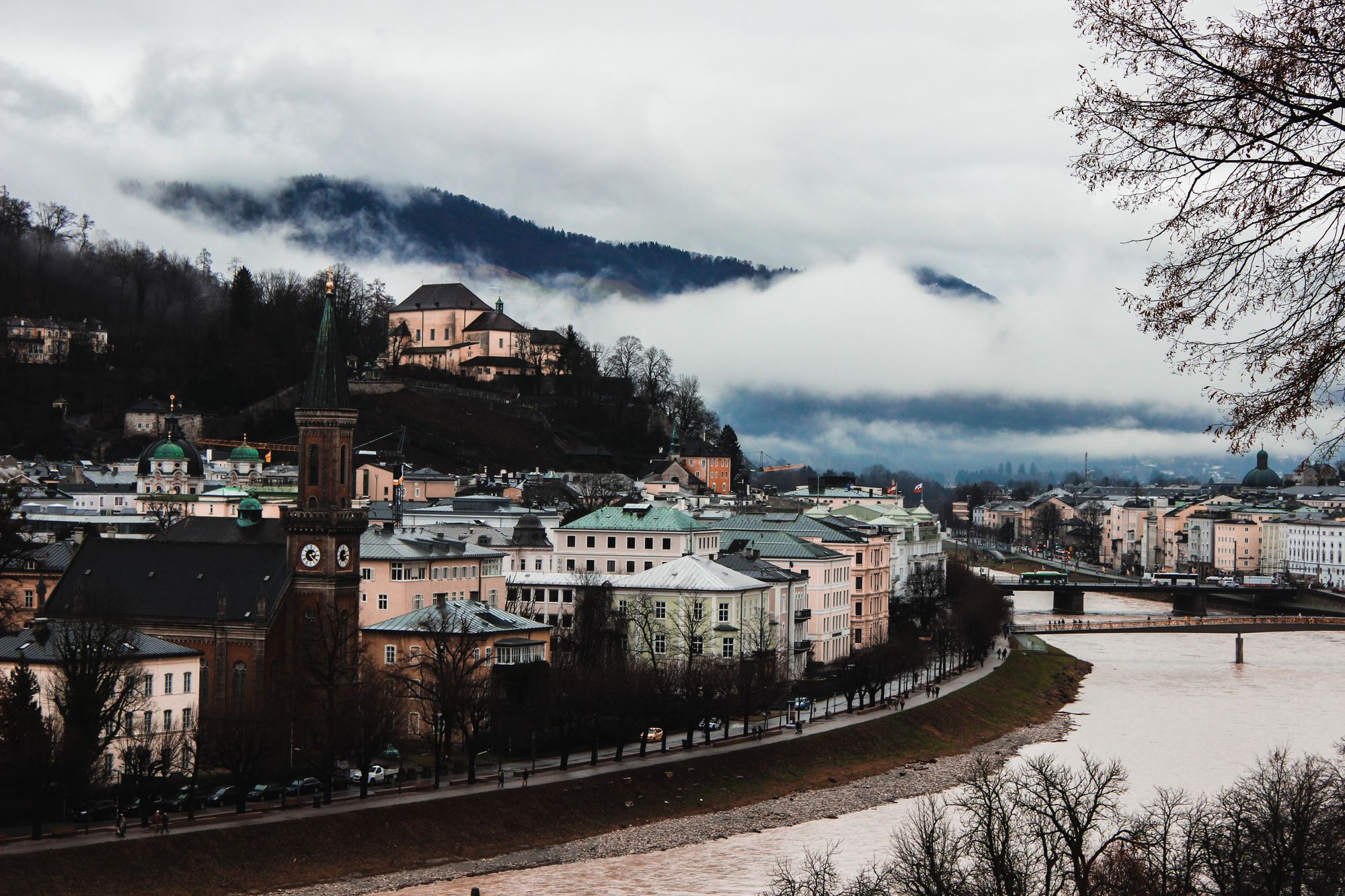 We didn't end up walking up to Festung Hohensalzburg (the castle pictured in the gallery above) and we didn't take the cable car up, but we still were able to get really good views from many angles as we ventured around the city. We walked around to Stift Nonnberg as well, which is the convent that is featured in The Sound of Music.
After our long walk across the hills, we stopped across by Cafe-Konditorei Fürst to pick up some original Mozartkugel (a sweet made with chocolate and marzipan). We also had some hot chocolate and cake there, which was really good and a really nice treat. After our quick snack break, we ran back up to Stift Nonnberg to try to grab a few last photos, then went back the hills and had dinner at a nice Mexican restaurant called Burrito Factory - it wasn't quite the kind of Mexican food I'm used to, but definitely still good in its own right. A bit of after-dinner wandering and a train ride later, and we arrived back home in Vienna.
Overall I really enjoyed being able to see what I did while in Salzburg, even though I know only saw a super small fraction of what's available. My parents told me about the Salzburg salt mines and that they used to offer tours pre-COVID, and while I'm a bit bummed that we weren't able to try some things like that I'm more than happy with what I was able to see.
Last, but not least, here are the other photos that I promised.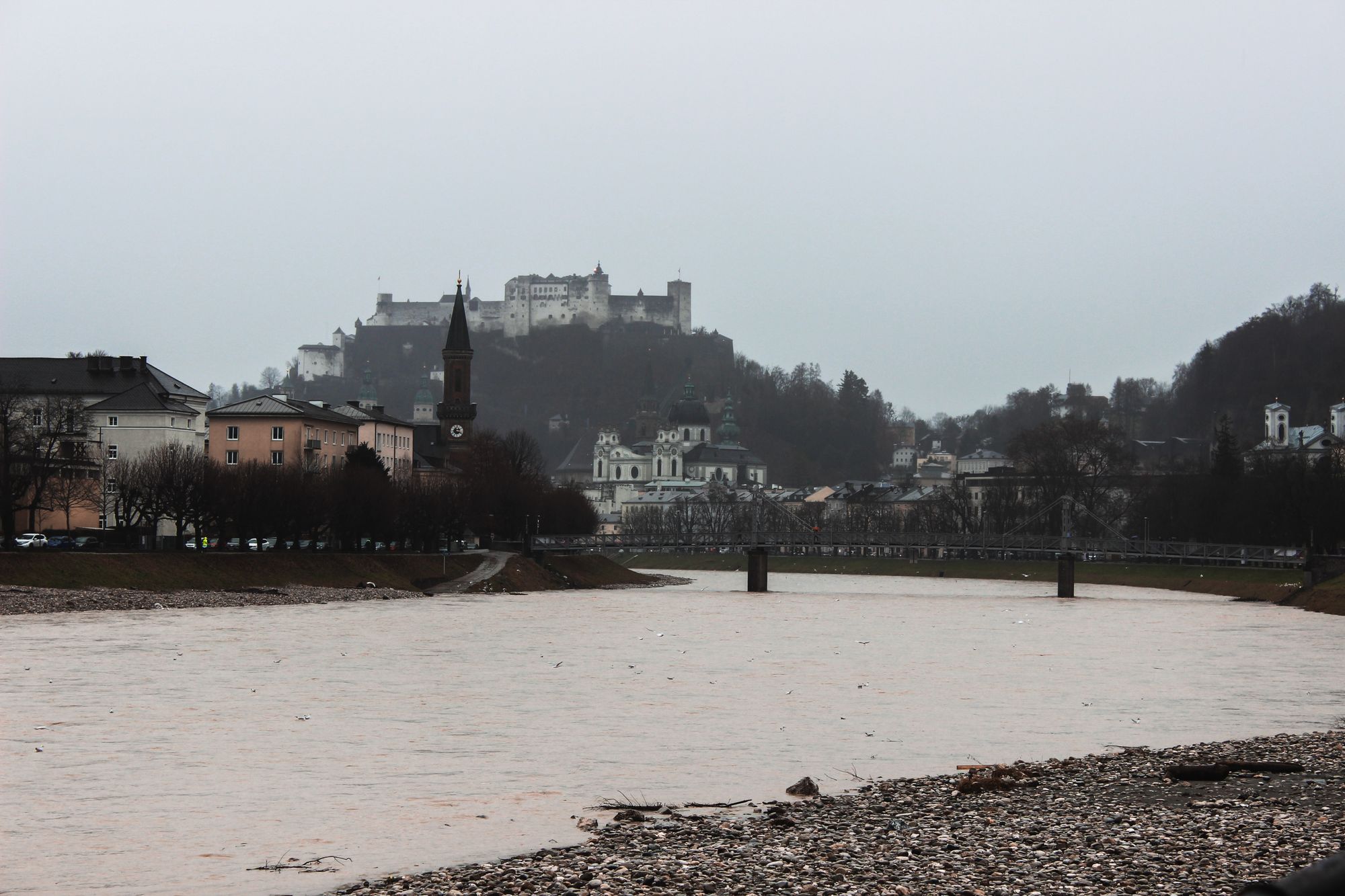 ---
I'll be heading back to Alaska and school this Saturday, but until then, here's some other things I've been up to:
I finally sat down and made a little logo for myself - you should be able to see it at the top of this page (or newsletter, if that's how you're reading this).
I finally tried some Döner Kebab, and personally really enjoyed it. I've still not been able to try Schnitzel (and might not be able to at this point), but I've been informed that Döner has a cult following of its own as well.
I went bowling with some friends today. European bowling lanes are weird (yes, it was still ten-pin, and I'm looking at you, NGT Bowling). Everything was pretty close to what I was used to, but the thing that messed me up most was that instead of the oil pattern that favors the center of lane like I'm used to in the US, they seemed to oil the whole lane equally which is a more tournament-style thing to do. If you have no idea what I'm talking about, here's a video that might shed some light on the topic: The hidden oil patterns on bowling lanes, by Vox.
We went to a cat cafe a few days ago! A lot of the cats seemed to be sleepy while we were there, but it was still neat to eat in a cozy environment with a few cats to pet not too far away.
As before, I still really enjoy the public transportation in Vienna, it just feels so easy to get where we want to go. I hope that someday I'll be able live where a similar system is in place as well.
Thanks for reading, and stay safe until we're able to talk again - hopefully it's not too long 'til then.